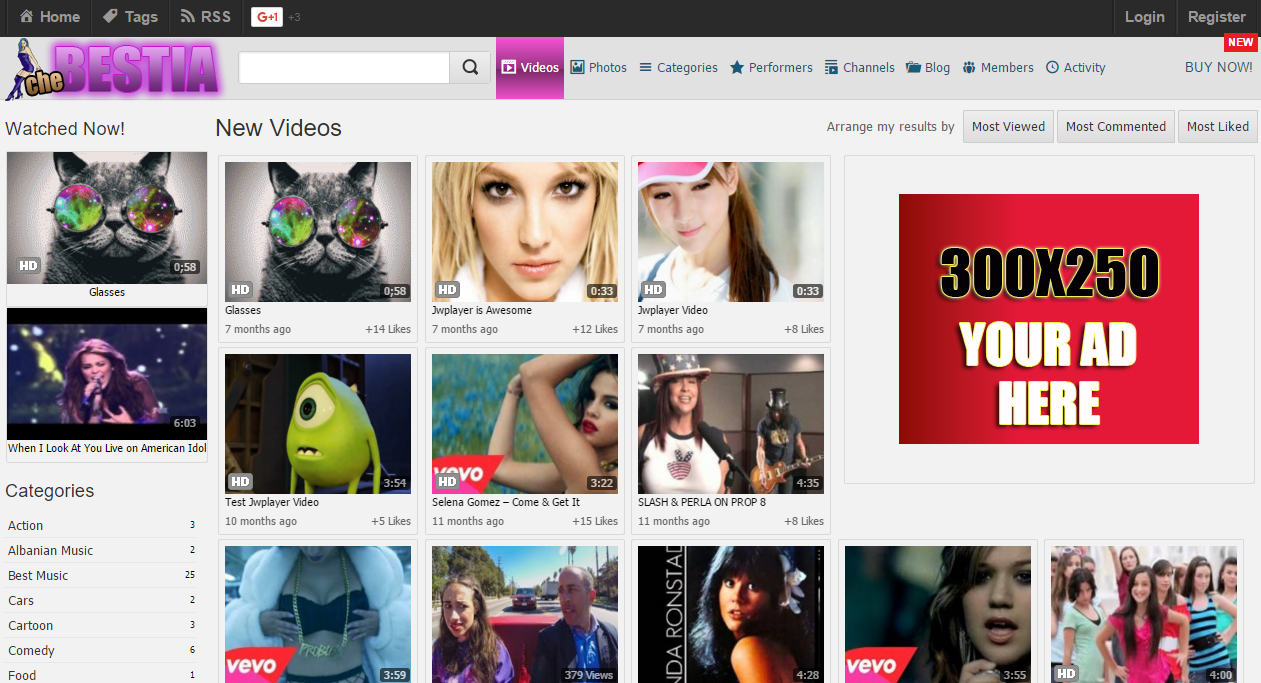 Compatible with ; Latest WordPress, tubeace, videoswipper, wptubeplugin, phpmyvideoblog, yarbot
Translatable, this theme is translatable.There is a folder called languages inside theme folder,you can edit default .po language file using the poeditor software.
(Languages included: Albanian,English,Italian,Turkish,Spanish,Portugal)
The Performer List Template (Using Thumbnail for each Model and model link wich redirect to model's videos,visible under the player if name is attached in post) This Function works as post tags.
Buddypress Membership and Activity (We included buddypress templates if you want to use membership,activity just install buddypress everything is ready.
Photo Gallery using the custom post types (This is optional,you will see gallery tab in your admin area where you can create photo galleries wich has different loop and single page.
BLOG, We just added a new custom post type called blog with a different loop and single pae.
Style Settings (This tab is very usefull and easy,you can choose theme style from the dropdown menu wich has (dark.css,light.css,dark-red.css,light-red.css and italian-style.css) in the future I think to arrive in 50 different color but in this version you can also use colorpicker to change the menu backround color,we added this option only for the middle menu to create your combination with your logo colors.
Layout Settings in this tab we added an option to change your player layout (video under the title or video on title with some other differences.Here you can also HIDE/SHOW Categories in single page or you can HIDE/SHOW the new photo galleries from the homepage AND you will see another textarea where you can work with css without going to the css files.(JUST PUT YOUR CUSTOMISATIONS IN ADDITIONAL CSS TEXTAREA).
Number of Videos in this tab you will see some inputs where you can change the number of videos for homepage,templates,archives etc.
Menu Support This theme has menu support (Top-left menu,top-right-menu,middle pages menu,footer menu and photo categories menu)
Widget Support, yes you have 3 widgets (Buddypress Activity Widget,General Widget and Blog Widget)